Are you dreaming of organizing a creative event but don't have the right space to make it happen? Why not book the venue that comes to you - the MakerMobile!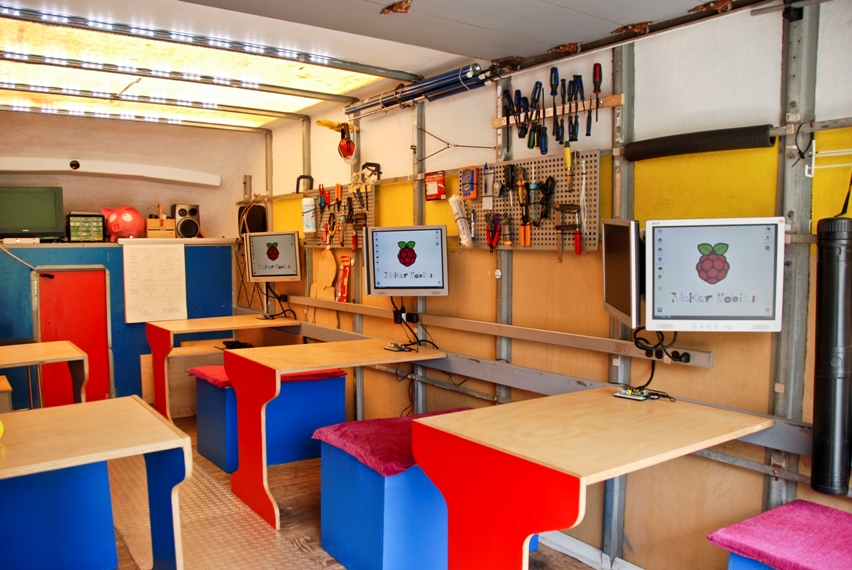 Perhaps you would like to…
Hold a painting workshop at the beach, or
Teach people to make chainmaille at your house, or
Demonstrate bike maintenance techniques at your workplace, or
Host a LAN party or game-playing session?
Now with our 'venue only' rates you can access the workshop/art studio/makerspace environment you need - including essential tools and computer resources. We will bring the MakerMobile to your location in the greater Vancouver area and set it up for you. All you need to do is bring any special tools or supplies for your activity and get creating. After your successful event, you can go out and celebrate while the venue will vanish as quickly and conveniently as it materialized!
What's included?
Space for up to 10 participants plus 1 instructor, depending on the internal configuration
Optional outdoor space in the form of a 10×10 foot "farmer's market" style tent
Optional configurable long bench along one side of the space
Dry-erase board and markers
Computer network
Up to 10 Raspberry Pi computers, LCD screens, keyboards and mice OR 5 laptop PCs
Soldering irons and soldering supplies
Hand tools including scissors, needlenose pliers, wire cutters and strippers, wrenches, screwdrivers, Allen keys, multimeters, hot glue guns etc.
Timelapse video of your event
Basic supplies like pens, popsicle sticks, wire, paper and tape. Please let us know about your activity in advance so we can make sure everything is accessible for you!
Travel time, fuel, set-up and take-down within our home area of Vancouver, Burnaby, Richmond, New Westminster and the North Shore
Available upgrades include snacks, soft drinks, Internet access via the onboard network and even photography of your event!
Are there any activities that can't be accommodated?
We ask you not to do full-scale woodworking or carpentry as it generates dust which goes everywhere. Likewise Jackson Pollock-style painting would be a problem! Certain types of jewellery making are OK but blowtorches cannot be used inside the truck. If your activity involves anything goopy, you should take reasonable precautions to contain any mess or spills (e.g. by putting newspapers down and/or using trays that we have available).
Is this a year-round option?
Rain is a non-issue as the rear awning covers the steps and entrance. On all but the coldest days of the year, we've found that switching on our oil-filled heater an hour before the start warms things up sufficiently (we have a transparent curtain that traps warm air in the truck very effectively). On very hot days, we use a fan system to pull cooler air into and through the space. Even so, at the height of summer, it is preferable to park in the shade of a large tree or building. In any case, we will set up the environmental controls for you when we deliver the venue!
Is a power connection necessary?
We have overhead LED lighting which can be run from an onboard battery, but if you want to run any extra lamps, power tools or computer equipment, you will need to provide access to a power outlet within about 50 feet.
How much does it cost?
A half-day (up to 3 hours) costs $179 and a full day (up to 6 hours) costs $289. Additionally we will ask you for a damage deposit which will normally be fully refundable. To find out more, drop us (team) an email at makermobile.org!