This post is the first in a series that describes new kits we are putting together just in time (hopefully;-) for Maker Faire this weekend.

Kit #1: Infra-Red Blinkie

Kit #2: Art-Bot

Kit #3: Personal Circuit Boards

Plus, we will be bringing our Beetle-Bot kit to Maker Faire for the first time this year. If you're looking for a super-accessible intro to robot building, check it out!
The Infra-Red Blinkie Kit is a development of the popular IR Throwie Kit that we've been offering for a couple of years now. We wanted to create a more versatile kit that could be applied in a number of different ways and we also wanted to improve the battery life (the lithium coin cells in the throwie kit last a few weeks, tops). Another objective was to offer a less fiddly and more substantial construction project, and one where you could 'see the circuit' better. Well, after hours of intensive research, we've done it

  If you really really want the throwie kit, we will be bringing a few to Maker Faire next weekend (June 6th and 7th), otherwise we expect to phase them out and replace them with this kit. Initially at least, the price will be the same as the throwie kit ($10).
This kit uses the same infrared receiver module as the throwies, but it's powered by (included) AAA cells in a battery holder. The receiver module controls two super-bright LEDs in a colour of your choice (Red, Orange, Yellow, Green, Blue or White). Here's a picture of the kit contents…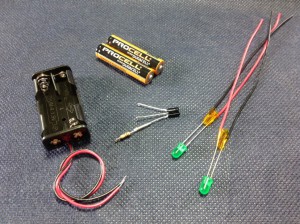 And here's what it looks like assembled…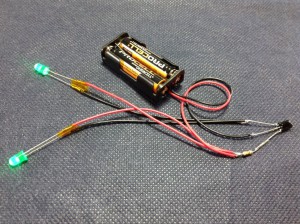 If you look closely (click to enlarge) you can see we've soldered our connections but it's not necessary if you don't have a soldering iron. You can pass the wires through the loops we've made for you on the receiver leads and twist them around - it works well enough this way but you might want to tape around the connections in this case to make them more secure.As we said, batteries are included. If you ask us nicely at Maker Faire, we might even give you an extra set (on the condition that you promise to recycle your dead'uns at London Drugs, Staples or one of the many other retailers and recycling centres that accept them). This kit will also work fine with Ni-MH rechargeable AAA's.Like the throwies, this project pulses its LEDs when it detects an infrared transmission from any ordinary (TV etc) remote control. So, what can you do with it? For an answer to that question, we refer you to the manufacturers of this non-slip mat material…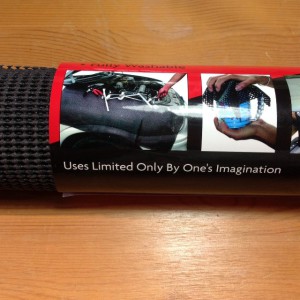 Some things you could do are:
Use it as a communications receiver and communicate with a friend in Morse code. The receiver is quite sensitive and could even work between buildings, especially at night.
Add personality to a stuffed animal or a portrait.
Use it as a TV-b-Gone detector! Great idea if you are a bartender whose TVs keep switching off mysteriously!!!
An example is our friend Harold the pole-dancing halibut. He hangs out in our living room and glares at us whenever we use a remote