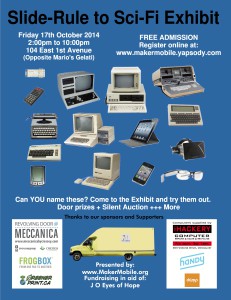 Come and join us for an exhibit that encompasses 40 years of computing technology. Experience working examples of devices from the 70′s to today, taking in such landmarks as the Apple II, TRS-80 and original PalmPilot … up to Raspberry Pi and Google Glass. See how humans used to live! Things have certainly gotten smaller and faster, but you may be surprised by how much is unchanged in the world of computers.
This free event, part of Cressey's Revolving Door series, is taking place on Friday October 17th in the exhibition space at Meccanica, 102 E 1st Ave, Vancouver (1st and Quebec). It runs from 2pm to 10pm and there will be optional orientations at 2pm, 4pm, 6pm and 8pm. You can register for an orientation at bit.ly/mmscifi
All the exhibits are in full working condition. What's more, if you find the Commodore 64 is bringing a nostalgic tear to your eye, you will be pleased to hear that there will be a silent auction as part of the event!
The MakerMobile itself will also be in attendance and we will be offering an introductory class, Where Hardware Meets Software, for people who want to get a gentle introduction to Python programming on the Raspberry Pi. Participants will complete simple exercises in hardware interfacing with LEDs and pushbuttons. If you are contemplating a Raspberry Pi home automation or robotics project of your own, or you just want to get to know the Raspberry Pi a bit better, this would be a great first step. Registration is required for this workshop and there is a $10 course fee. Tickets are only available at bit.ly/mmscifi - pick your time slot then choose Raspberry Pi from the drop-down. Classes will start at 4pm, 6pm and 8pm and numbers are limited to 5 per class.
All in all this looks like a pretty fun day for people who love technology. We hope to see you there, so remember to register ASAP!