I am so enthralled with mobile spaces that I decided to take the concept to a new level: Introducing the Tiny Community Centre project!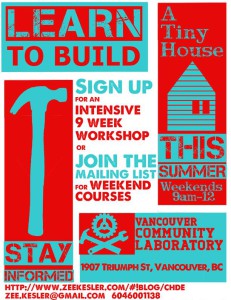 More info: www.zeekesler.com
Phase 1: The Tiny House Building Workshop Series pairs trades workers, architects and artists with workshop participants interested in learning how to source, identify and utilize salvaged materials and use construction skills gained in the program to create their own projects. For this, we have created a curriculum for a pilot workshop series run in association with the Vancouver Community Laboratory. The workshops will cover everything from tool safety to flooring, framing, electrical, solar systems and finishing. Using the tiny house as a teaching tool, the series has been designed to allow participants to gain hands on experience in various construction methods.
Phase 2: Involves using the Tiny Community Centre as a hub to inspire regular citizens take action and engage with their community as both participants and leaders. In order to offer accessible and creative course content, we are partnering with Trade School Vancouver to create a range of free and low cost workshops focused on a range of subjects including health, food and how to "DIY-ify" your life through home made projects of all disciplines.
9 Week Intensive Workshop 
Covers all these topics.  Come learn everything about tiny houses from local experts! John McFarlane, architecture grad, designer and owner of local tiny house building company Camera Buildings, Josh Armstrong, carpenter, set builder and bamboo bike builder and Nathyn Sanche, Red Seal welder, inventor and all around D.I.Yer. More workshop instructors to come! 
You can register here via our crowd funding campaign for access to sliding scale registration.
1, 2 or 3 Day Workshops
Interested in learning about a few subjects but can't commit to the whole 9 week series? The weekend workshops might be a good fit for you.
We are offering 13 individual 1, 2 and 3 day workshops on a range of subjects from July 5-August 31.
The workshop outlines are and links for registration are available
here
Hopefully we will see you this summer!